TABLE OF CONTENTS

ABRAM
ONE, TWO, THREE, FOUR, FIVE, SIX, SEVEN, EIGHT, NINE, TEN, ELEVEN, TWELVE, THIRTEEN, FOURTEEN, FIFTEEN, SIXTEEN, SEVENTEEN

YEHHI
EIGHTEEN, NINETEEN, TWENTY, TWENTY-ONE, TWENTY-TWO, TWENTY-THREE, TWENTY-FOUR, TWENTY-FIVE, TWENTY-SIX, TWENTY-SEVEN, TWENTY-EIGHT, TWENTY-NINE, THIRTY, THIRTY-ONE

ABRAHAM
THIRTY-TWO, THIRTY-THREE, THIRTY-FOUR, THIRTY-FIVE, THIRTY-SIX, THIRTY-SEVEN, THIRTY-EIGHT, THIRTY-NINE, FORTY, FORTY-ONE, FORTY-TWO, FORTY-THREE, FORTY-FOUR, FORTY-FIVE, FORTY-SIX, FORTY-SEVEN, FORTY-EIGHT, FORTY-NINE, FIFTY

MAPS
TRAVELS OF ABRAM, ABRAM IN CANAAN, TRAVELS OF YEHHI, CITY OF UR

ESSAYS
FLUCTUATIONS, CUBIST HISTORY, GOD'S WILL OR MAN'S, AN ABSTRACT GOD, CHINESE BOXES, THE DOUBLE TRIANGLE

NOTES
BIBLIOGRAPHY



BOOK I: ABRAM
An earthquake destroys city of Ur and topples all the gods by one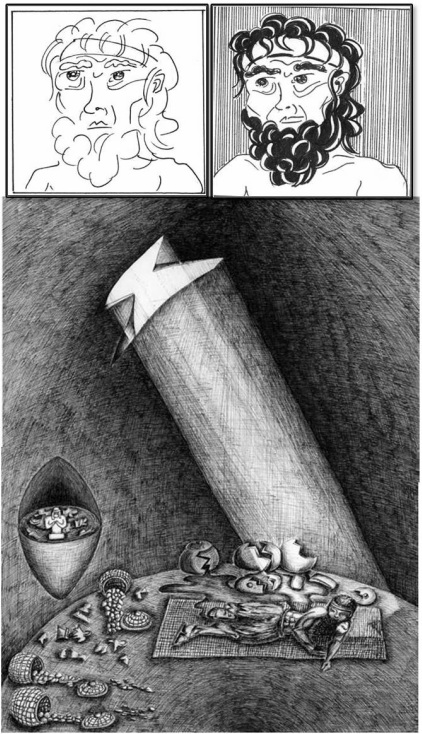 A soft natural light filtered through the doorway of the beehive-domed room, touching a small patch of the floor. In the semi-darkness beyond, Abram lay on a mat, tossing and turning and mumbling in his sleep. The night before, there had been a raucous party celebrating his upcoming wedding. The young man had wildly overindulged in drink and in the prostitutes that his brothers had brought to him. The guests had eventually gone home a few hours ago and his brothers had been able to stumble back to their quarters in adjacent wings of the compound. But, as the life of the party, Abram had passed out on the floor in the central room where the gathering had been held.
He dreamed that a giant hand had grabbed the side of the house and was lifting it up and down. He was annoyed. "Now stop that!" he said in his dream. "I'm trying to sleep." A sharp crashing noise woke him with a start, and he was confused by the bright beam of sunlight shining directly into his eyes.
Above his head a small, jagged crack let the morning light in through the beehive domed ceiling, but otherwise the dome remained intact. He sat up and glanced around the room. Various baskets and bowls had fallen over. Then he felt water; he was sitting in a puddle that had flowed out of a broken earthenware jar. There, right in front of him, was the niche with the altar to the family gods and ancestors, and all the figures had toppled over. Some had fallen on the floor; some had shattered. Abram stared wide-eyed at the one, the only idol that remained standing amidst the wreckage. It was the figure of Yehhi!

Terah sat on the floor and contemplated the statue of Yehhi standing among the other, fallen idols. Abram came and sat beside him.
"What does it mean?" he asked his father in a soft voice. He did not want to alarm the women and children, but clearly the obvious physical destruction was just the beginning. Something more awesome and frightening was afoot.
"Yehhi has cast down the other gods. He, alone, now rules our destiny. But, He has also punished us with this great misfortune . . . How shall we regain his favor?"

Terah was unwavering. "There is nothing more for me here! Yehhi has destroyed my house and my city. He is telling me to leave this place. He has taken my boy Haran as a sign and a warning. He is telling us to go up the River to his city, the city after which I named my son, the city of Harran. There we can focus on the veneration of Yehhi. There we can appease Yehhi, and thereby save ourselves. Soon Yehhi will wipe what remains of this corrupted city of Ur from the face of the earth. We must get out, and get out now!"


---
In Harran, Abram's nephew Lot is tricked into squandering the family wealth on sheep and goats.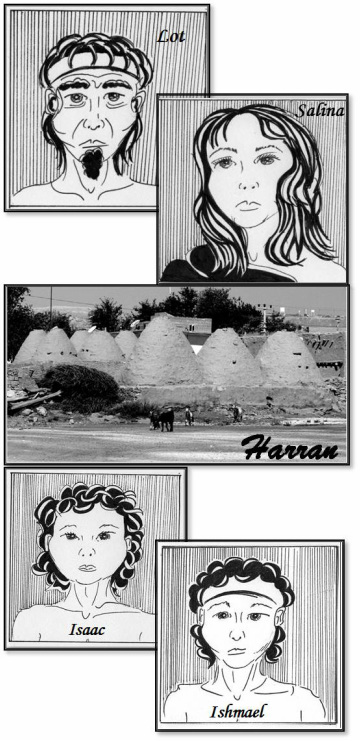 Lot, accompanied by several of the household servants, was sent to the town bazaar with a fair piece of his uncle Abram's remaining fortune and orders to obtain goods—provisions, animals, slaves—that would be useful to Abram and his household on their journey into exile. As he trudged through the streets, the intense nineteen-year-old realized that he was on a very important mission. But, it was rather loosely defined. What Abram would need depended upon where he was going and what he was doing, and Lot did not know the answers to these questions. Abram himself had said that he did not know either. Yet, at the same time, Lot knew that the survival of his uncle and his uncle's household would depend upon him making wise choices on their behalf.
The merchants were perplexed by this young man. Where would a boy such as this get so much silver? And, he seemed dead set on spending it all in one day. Lot cut a broad swath through the bazaar, accumulating pack animals, male and female slaves, jars of oil, jars of dates, jars of grain.
Finally, one toothless old trader asked him what everyone was wondering. "What ya goin' ta do with all this stuff, boy? Goin' on a trip, are ya?"
"Well, yes I am. I am going on journey. A . . . a long journey."
"Where ya headin'ta?"
"I'm leaving Harran."
"Yeah, uv course ya are, but then where?"
Lot did not reply.
"Hum . . . I see." The merchant was sure he had Lot figured out. Clearly this boy had stolen his treasure from some nobles or from the Temple. He was trying to buy what he thought he would need to sustain himself in the wilderness before fleeing the town. Perhaps he would get away before the owner of the silver realized it was missing. The merchant cracked a broad grin. Best get his share of this loot and skip town himself before soldiers show up and the lad gets caught.
"M'boy, if you're heading off on a trip inta the wilds, then you're not buyin' the right stuff. Trust ol' Namzu. We travels aroun' and we knows how ta live on the land. What ya have here's all wrong. These slaves are city slaves, house servants. They know nothin' of survivin' in the wilds. They'll be a burden, just slowin' ya down and eatin' up yer food. And this food? This'll not do. It's city food. It's heavy to carry; it'll run out; it'll go bad. What ya need is food thut walks for i'self; food that replenishes i'self; food that's always fresh."
Lot nodded earnestly.
" Ol' Namzu will take this here city food and these city slaves uff yer hands and provide you with sheep an' goats, and some shepherd boys (named Ishmael and Isaac) ta tend 'em.

There was a brief silence while Abram figured it out, then he lunged at Lot and began to beat him about the side of the head with a stick. "You little piece of shit! In my darkest hour, you used practically my last measure of silver to buy yourself a concubine? And for me you got a bunch of flea-bitten, smelly goats! Well one thing is for sure, this pretty girl of yours (Salina) is not yours at all. She is mine, and she is coming with me. I will leave you . . . No, no, no, I will sell you one of the goats to use in her place."


---
Abram learns to sacrifice to his God from the Priests of Baal at Shechem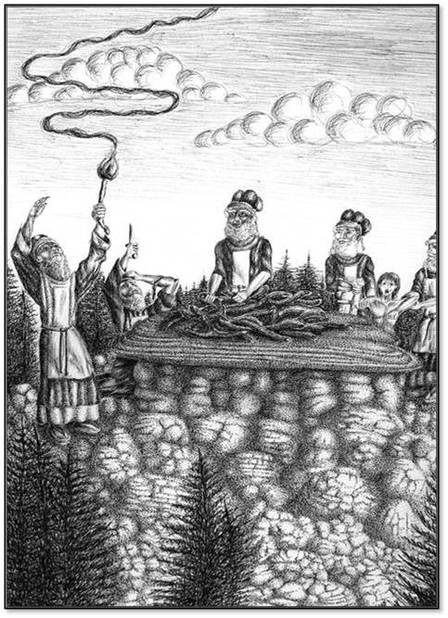 "Greetings, hebrews, we are the Priests of Shechem."
Abram leaned over and whispered in Ishmael's ear, "He called us hebrews? What are hebrews?"
"It is an expression used in this land," Ishmael whispered back. "It means a wanderer, someone from elsewhere."
"How can they tell?"
"It is not so hard to tell," Ishmael whispered back.
Abram smiled awkwardly at the priests. "I am Abram and this is my family. Indeed we are wanderers from the land of Sumer, from Harran and Ur."
The priests smiled as if amused. "We have heard that Sumer is a great land of high culture, learning . . . wealth. We have heard that Harran and Ur—oh yes, Ur—are great cities, vast cities. But look at you! You are just nomadic sheep herders—hebrews."
Abram's face flushed red with anger. "Why do you insult us so? We have no quarrel with you."
"Rightly so. Rightly so," replied one of the priests, smiling warmly and extending his hands toward them with palms upraised. "We have made a sacrifice to our Lord Baal. We would be happy to make a sacrifice for the welfare of you and your people as well."

"What is this god that you wish to make sacrifice to?" Asked the priests.
"My god is Yehhi," said Abram.
"Yahweh?"
Abram winced at what their accent did to the name. "No, no! Yeh-hi. Yeh-hi!"
"That's what we said, 'Yahweh'."
"All right, all right. I would like to make an offering to Him."

"The best sacrifice, the sacrifice that will please your god the most, is of course a nice young boy." The priests once again gestured toward the smoldering altar. "After that, the second best thing is a nice young girl."
"That boy there," one of the priests gestured towards Isaac. "Baal . . . er . . . I mean Yahweh would be most pleased. Favor would surely be upon you and your clan from such a sacrifice."

"What else would be an appropriate sacrifice?" asked Abram.
"Paahhh—" the priests gasped, shaking their heads. "Well, you could sacrifice an animal, a ram or a sheep, such as that." They gestured towards Abram's flocks. "It's not the same. But . . . I suppose it might be worthy of your Yahweh if some of my priests added their own blood to the sacrifice. Yes, yes. For five weights of silver you can have four priests cutting their forearms, but you supply the animal. What do you think?"


---
Strongman, Abimelech king of Gerar takes Abram's wife Sarai for himself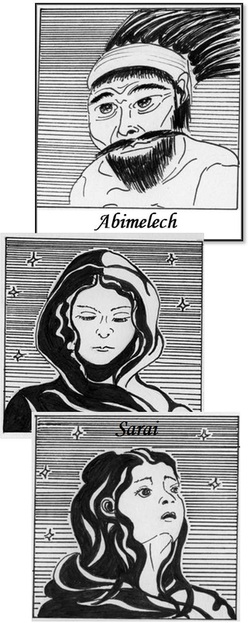 "What does Abimelech require?" asked Lot.
"Abimelech will have to see," he replied as his men stepped forward, spears at the ready, and surrounded the men of Abram's clan. While the strange man with the gold ring stood off to the side and watched, Abimelech and a few henchmen proceeded to quickly survey the herds of sheep. Then they headed toward the line of baggage-laden donkeys but stopped abruptly when their torchlight fell upon the womenfolk, huddled together. Abimelech stopped and walked up close to the women, who hid their faces from him with their shawls and scarves. He walked among them and one by one he pulled back their scarves, looked at their faces, and judged them with comments like: "Eh," "Perhaps," "Oh, no!" and finally, "Ah, so lovely!" Abimelech was looking at Lot's young wife Salina. He came to the woman beside her, pulled back her scarf and just looked, not saying a word. Then he broke away and returned to where the bulk of his men were guarding Abram, Lot, Ishmael and the others.
"Take the herds to my pens. Take the baggage to my storehouse. Take the pretty young girls and boys and the young women to my house. The old women and the ugly ones . . . oh, take them for yourselves, any of you. And, as for these assholes," he indicated Abram and the other men with a curt wave of his arm, "Slay them!"
"No! My lord! No!" shouted Lot. "Such an offense against defenseless people who meant you no harm is an affront to the gods for which you will bring down misfortune upon your town and your people."
Some of Abimelech's men exchanged concerned glances and a murmuring began among them. Abimelech went over to confer with the aloof stranger. Only snippets of the conversations were audible and understandable to Abram, Lot and Ishmael.
"Oh come on . . . need to have something for our trouble . . ."
The strange man cocked an eyebrow.
"But Phicol you cannot be suggesting—"
"Simply, watch."
"Oh, very well," sighed Abimelech, trudging back. "Take half the herds, and I only really want the one woman."
"Which woman, my Lord?" asked several of Abimelech's men together.
"You know which one. Go fetch her!"
They nodded and strode off toward the huddle of women. One of them pried Sarai from the others. Salina, wailing hysterically, would not let go of Sarai's hand until she was brutally slapped to the ground. Abimelech's men dragged Sarai kicking and screaming back to their leader. As a henchman held Sarai firmly by her arm, twisting it a little to keep her under control, Abimelech asked, "So who does this one belong to?"
They were silent, and Lot and Ishmael looked fearfully at Abram.
"Sh . . . Sh . . . She's my sister," stammered Abram.
"Well then, you will be happy to see that she is marrying so well."




---
BOOK II: YEHHI
Ten Year Old Yehhi Travels Across the Desert & Has a Dream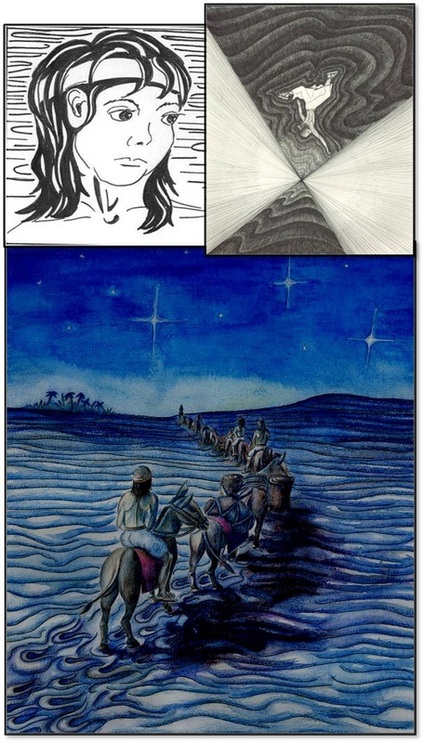 The clear, desert night sky vaulted all around me, and countless stars shone and twinkled. It was ages ago, and I was ten years old. I knew the lights above were the campfires of the ancestors and the gods, and I knew that they were beyond my reach. The soft rounded shapes of the dunes were barely visible in the darkness, and the other donkeys in the train, laden with baggage and other riders, barely registered in my mind. It seemed that I was floating in the mist of the heavens. As the night wore on, the gentle swaying of the donkey I was riding must have lulled me into a trance. I must have been dreaming. I felt as if I was being drawn toward one star which hung low in the sky directly in front of me. If only I could continue on long enough, I would get there and then I would be among the revered ancestors and the gods. Greatly I desired it.

Strangely, I could fly. I was above our tent looking down. I drifted lower toward it and then floated up higher, and higher. How was I going to get back down? I was leaving the earth and now soaring in the blackness of the heavens, among the stars. It was as I had wished. But, the stars were pulling away from me; they seemed more remote than the night before in the desert. Then I could not see them anymore. I was in a vertical shaft of darkness. I was plummeting downward in this narrow blackness and seemed likely to do so forever, since there was nothing below me. There was no rush of air past me as I fell; I was falling in a void. Or was I falling? No, actually I was rising now, rising back up. It seemed I would rise forever since there was nothing above me. Then I was falling again; then rising. Up and down, endlessly in darkness, and the darkness was permeated by a deep pulsing that cut through me. I was not just rising a long way and then falling a long way. No, somehow I was actually falling forever and then rising forever, over and over, faster and faster.
Each time I shot up or down the dark shaft—I could no longer tell which was which—I passed a bright spot, the only light, at the middle. This was the door, the way out. But how to use the exit, when each time it just flashed by in less than an instant? Each time I reached for the door with my hand . . . with my mind. But, in the time it took to reach, to think, the door was gone again. An impossible predicament, but forever is a long time to work at something, so I tried again and again to grasp the door.
As I hurtled through the blackness, I reached out my hand. The light flashed and I had it. My father was shaking my shoulder.



---
At a desert oasis Yehhi listens to the Epic of Gilgamesh and meets a stranger with a gold tooth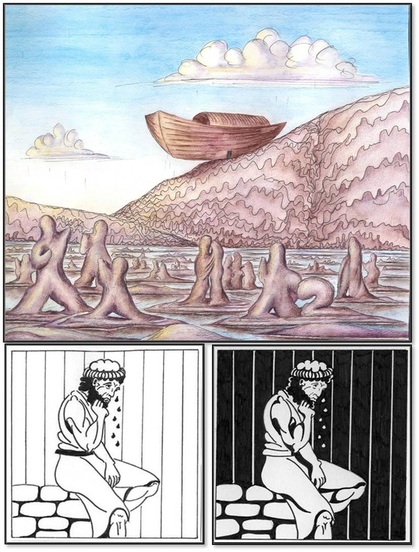 The gods heard Gilgamesh, and taking pity,
Opened a hole in the roof of the underworld,
From whence Enkidu wafted like smoke up from the hot fires below.
The king of Uruk did try in vain to hug and kiss his dead companion.
So in frustration did Gilgamesh ask,
"How goes it with you in the world below?"
Enkidu spoke: "Rats eat my flesh that you once touched in joy."
At these words Gilgamesh did cry.

When Gilgamesh had recovered himself again he spoke:
"In the world below have you seen the man with no son?"
Enkidu spoke: "Yes I have seen the man with no son."
Gilgamesh asked once more: "How goes it with the man with no son in the
world below?"
Enkidu replied: "The man with no son sits by the wall in the world below and
weeps."


"I would like to live forever," I (Yehhi) said. "The gods have decreed that we must die, but why?"
"Ah . . ." Gold Tooth breathed out slowly before he answered me. "These are things which are beyond the mind of men to understand."
"What is it like to be dead?" I persisted.
"Dear boy," he told me. "I do not know what it is like to be dead. No one knows, and I doubt anyone living ever will know. In all the long ages of the world from the Creation until now, no one has ever come back to tell the living. Not one!"


---
On Recommendation from "Gold Tooth" Yehhi enters the scribe school at the moon temple in Ur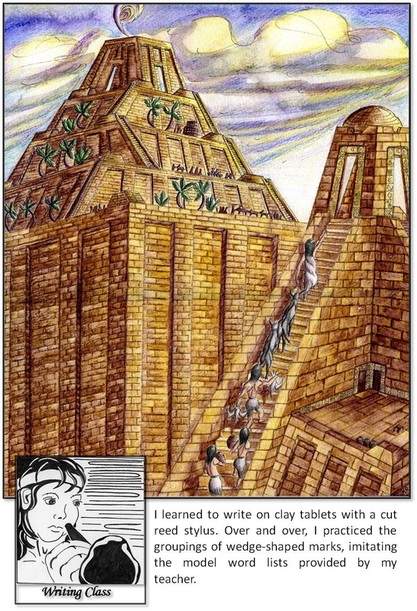 That is how I came into the service of the Temple of Nanna (Moon). Really it was just two accidents: an accidental meeting with a strange traveler at a desert oasis and an equally accidental encounter with a young scribe buying frankincense. At first, things were very hard for me at the Temple because I was very much an outsider. Most novice scribes came from noble families of the city and began their education at the Temple school by the age of seven or eight. My humble origins, and the fact that I was already ten, meant that I was often singled out for ridicule by teachers and fellow students alike. The other boys called me god meat, or sometimes just meat for short, and to their delight I was beaten often.

I was given the job of fetching choicest olive oil from the Temple storehouses, for the anointing of the idol of Nanna. The idol was anointed nightly at the first sighting of the moon from the Temple parapet. I needed to make sure that a vessel of oil was on hand at the door of the outer sanctuary well in advance of the required time so that the priestesses could perform their purification rituals upon it prior to entering the Holy of Holies.
When I was assigned this chore, one of the senior temple administrators warned me of the dire consequences of failing in my duty. He told me about a boy who had performed the same job some years before and had once been late with the oil. Nanna then had shown his displeasure that very night by sending lumps of a cold, white rock pelting down from the sky. Strangely, by morning these heavenly projectiles had disappeared, but they left devastation in the fields and in the orchards all around Ur.
"That careless boy wound up as god meat," the administrator said with a chill in his voice.
Of course I had heard that term many times, but never from an adult, a teacher or a temple official.
"Excuse me sir," I said in a halting voice. "I have heard this god meat from the other boys, but I don't know what it means."
"Every year at the Akitu festival a very important and very special sacrifice is made. One young man is given the honor of being consumed by Nanna, and therefore going to join the god in the sky."
"Consumed by?" I stammered.
"Yes, devoured! Meat for the god! It is a great honor to be chosen, or at least it was in my day. Shamefully, these days the well connected families of some of the temple boys intercede to exclude their sons from consideration. In fact, what was once an honor, and still is an honor on the face of it, has changed over time to actually be a penalty. Do a bad job in your work for the Temple, break the rules, perform at the bottom of your class, and you might end up as god meat at the next festival, unless, of course, you're from a good family. But, you are not.


---
Yehhi goes to Harran, makes a fortune in logging, and advances in the temple, before returning to Ur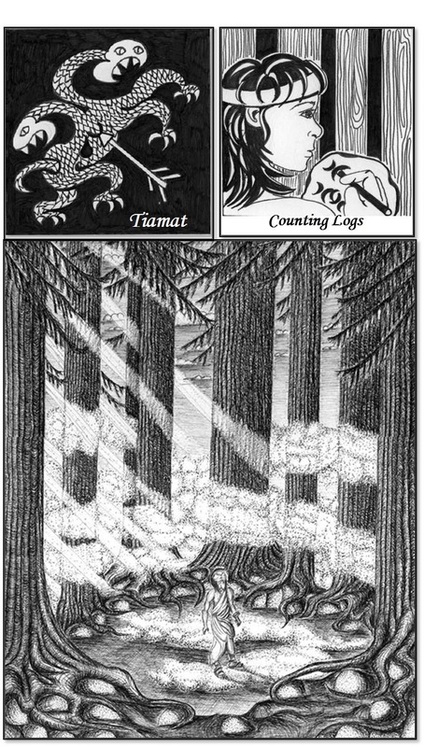 After seven years as a Temple novice, I graduated to the level of junior scribe. My lack of direction must have been apparent to my teachers because they decided to assign me to accompany a logging expedition up the River to Harran. I think they believed that some time away from the Temple might help me find my calling.

One morning, I arose before the others and walked off up the mountain. I passed the cleared area of cut trees and plunged into the deepening forest beyond. I found myself standing in the middle of a circle of about ten huge evergreens. What was visible of the massive trunks, obscured by low hanging branches, ground mist, and the low light of early morning, suggested strength and permanence. Each trunk, at the base, could have completely filled the round center of my boyhood village back in the marshes. Golden beams of morning light angled softly down through the branches and the haze, while the trunks shot straight up toward the heavens. For trees to grow to this size would take lifetimes beyond counting.

Due to the family connections I acquired through marriage and to the allure of the timber wealth I brought to the Harran Temple community, I rose quickly in the Temple hierarchy. By the age of thirty I was the second highest ranking administrator in the Harran Temple.

My father-in-law and I were sitting out front of his home one hot summer evening drinking beer and discussing the goings on at the Harran Temple.
"What are your thoughts on the Dual Nature of the Divinity?" he asked me. "Of the two factions, the Disk followers or the Idol Worshipers, which one do we support, and which one do we exterminate? We are the leaders Yehhi, so our support will be decisive. I am asking you, which side will win the Harran Temple?"
"A cult that just gazes blissfully at the Moon would have no need for sacrifices," I said. "It would have no need for the animals, oil and grain. It would not need scribes or administrators, or lumber. It would not even need a Temple. They could all just go out and stand in a field and look up."
My father-in-law grunted his agreement, and the Disk followers fates were sealed.

That is how I came to be called back from Harran to the mother Temple in Ur. Apparently word of my decisive action to squelch the Disk heresy in Harran reached Kepdu's ears. He probably was pleased by the thought that his advice so long ago on the deck of our log raft had taken hold, and turned me into a proper tough minded administrator, able to make the hard decisions for the benefit of the organization.



---
BOOK III: ABRAHAM
Abram rebuilds Ishmael's boyhood home and moves in with his mother Hagar

Abram and Ishmael went together to the ruins of Ishmael's childhood home. They shooed the goats out, cleared the brambles and began to stack the fallen stones to rebuild the wall. They salvaged the collapsed, wooden roof beams which had been incorporated into the fence for the goat pen. The beams were raised and covered with thatch, twisted into narrow bundles, and these in turn they covered with a layer of earth on the roof. It took them five days, but when they were finished, both Abram and Ishmael walked proudly around and around the small square building, admiring their work.

The grass was becoming scorched and brown, and the herds suffered; the herds of Abram and the herds of the native inhabitants suffered alike. And, the people of the village began to murmur against the newcomers who had increased their numbers beyond the capacity of the arid land.

Abram sat on the stoop of Hagar's stone house one morning with a sullen look on his face, watching Lot go at it with Hagar's brother-in-law. They were shaking fingers in each other's faces and cursing so vigorously that they were showering one other with mists of spittle.
Then Lot turned to Abram. "Uncle! Uncle! Why so quiet?"
Abram continued to sit and scowl.
"Uncle, a man might start to think that you have abandoned your people, the people who have accompanied you into your exile, the people who have been with you through all your hardships since you left Sumer. Uncle, have you become a village dweller? Have you taken a village wife? Uncle, do you favor the villagers over your own?"
Abram continued to sit and scowl without replying to Lot, who soon turned back to Hagar's brother-in-law. Hagar came up behind Abram in the doorway. She knelt down behind him, put her hand on his shoulder, and whispered in his ear.
"There is another source of water."
"What?"
"There is a spring in a wadi out in the fields, not so far from here."
"If there is, no one in this village seems to know about it," Abram observed in a low voice, as if not to disturb the argument going on nearby.
"I know about it," Hagar continued. "It is not flowing at the surface these days and has not for many years, not since my Ishmael was a baby."



---
Hagar finds a new well, Abimelech returns Sarai and swears an oath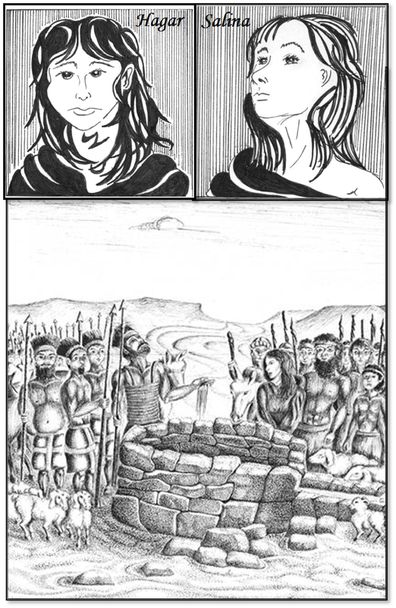 The harlot has no idea where she is going," Salina hissed under her breath to the other women. A wave of discontented murmurings passed through the crowd. Hagar stepped down into and then crossed the dry wadi. Abram and Ishmael were still at her side, but about half the people did not follow. Salina continued on, however. She wanted to savor every moment of Hagar's failure.
When Hagar finally reached the head of the wadi, only Ishmael, Abram, and Lot and Salina were still with her.
"This is it. This is the place," she proclaimed, pointing at a sunken spot in the ground where the wadi ended.

The three men paused for a moment, exchanging dubious glances. Then simultaneously they threw themselves into the hollow. Shoulder to shoulder to shoulder they scooped at the loose, sandy soil with their bare hands. They dug and they dug, and Abram was becoming more doubtful with each handful of earth. Hagar stood on one side of the growing hole and Salina faced her fiercely from the opposite side. The three men stood in the bottom of the hole they had dug and it was deeper than their waists. They exchanged looks, more dubious than before, but once again they threw themselves down into the dirt and they dug and dug. The light was starting to fade, their strength was failing, and their fingers began to bleed. Sensing victory, Salina pulled off her head scarf and tossed her wavy mane of auburn hair so that it was illuminated by the sun setting across the plane behind her. She smiled and shot daggers at Hager with her eyes. The three men climbed silently out of the huge, dry hole they had dug.

"What is this you have done to me? Why did you not tell me she was your wife?" Abimelech pleaded in an innocent and aggrieved tone. "Why have your gods brought this pestilence upon my manhood?" A twitch of delicate discomfort passed across his face. "And this barrenness upon my household? And, perhaps grave consequences with my overlord? Why did you say, 'She is my sister,' so that I took her as my own? It is you that has caused me to offend your gods. Here, take back your wife, sister, whatever. And call off your gods' wrath. And, here take back your flocks and some more besides, and take also these servants and goods that your wife has become accustomed to while in my household."
Abram's heart soared as he set eyes on his beloved Sarai for the first time in almost a year and a half.
"I . . . I will accept your amends," stammered Abram, recovering from the surprise. "And I will do what I can with Yehhi, our great god, on your behalf, but . . . but . . . You must swear, yes swear to no longer oppress my people. Swear to no longer demand tribute from this village, to no longer steal our women."
Abimelech heaved a heavy sigh, and took a few steps forward. Abram's men made way for him. Abimelech dipped his hand in the water of the well. "By the spirit of the water which all men and beasts depend upon for life, I so swear!" he exclaimed. Abimelech shook off his wet hand, turned and with his armed escort walked away over the fields leaving all else behind.


---
Abraham's inability of conceive a son drives him to self mutilation, bloody sacrifice, and bargaining with his God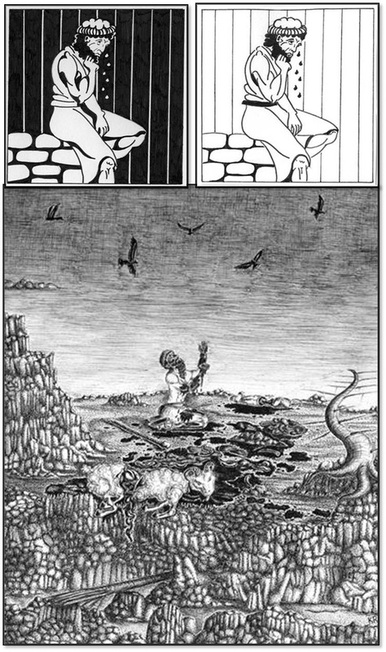 As the months went by and Sarah still did not conceive, Abraham was buffeted by alternate long bouts of melancholy punctuated by frenzied bursts of copulation. During his melancholy, Abraham would lie for hours in his tent, half asleep and half awake, seeing himself already sitting by the wall, alone, in the land of the dead. And then he would be taking Sarah roughly, his head swimming with a thousand plans for the future, and before his eyes the starry arc of the Milky Way.

Abram drew a knife from his belt and quickly slit the throat of the ram. Warm blood spurted on his hand and on his feet as the body twitched its last. "Sacred blood . . . Sacred blood, as in Salem. Sacred blood . . ." the words kept running through his mind. The goat had started to wander off, so Abram shuffled quickly after it, leaving bloody footprints across the stone. He caught the goat and immediately slit its throat as well. Then he began carving the animals, each in half through the middle. And it was hard work, for the animals were robust and his blade was modest. He crouched over the carcasses, his forearms now smeared in gore and his hands beginning to ache from the effort. Salty sweat burned his eyes, and he was breathing heavily. Before he realized what he was doing, he wiped at the sweat and then his face was covered with blood as well. He hacked at the viscera, which had a tendency to slide over the blade without cutting. He punctured the bowels, and the contents spilled out, and it stank. Then he used the point of the knife to attack the segments of the backbone and pry them apart.
The sun was going down. In the dusk, Abram, panting and dripping with blood and sweat, labored to drag the halves of the sheep and the goat and arrange them opposite one another on the great stone. He then collapsed from exhaustion in the sticky blood, gore, and bowel that was smeared on the stone between the cleaved parts. Abram lay there looking up at the deepening sky. Then he cried out, "Yehhi! Yehhi! Can you hear me my god?!"
Abram waited in silence for a reply. Then he cried out again, "Yehhi! Yehhi! This is my promise to you. I, and my people, will honor you, worship you, never fail to make sacrifices to you."
Abram lay there spent from his effort, and profoundly saddened by the lack of response, the lack of a sign that he had been heard. His desperation was turning to despair, even thoughts of his own death. And Abram passed into unconsciousness.

He took Sarah repeatedly, even violently in those days, so as to fulfill his covenant with his Lord Yehhi. He had cloven the animals; he had cut his own flesh! Yehhi had promised him descendants as numerous as the stars in the sky. So, now was the time!



---
Ishmael and Isaac meet the Wild Man of the Hills

"Yahwey," continued Ishmael, "is the special god of our clan. We make sacrifices to Him and He helps us with things like wells, and flocks . . . the men of Gerar."
"I see." Said the Wild Man. Can you tell me specifically how Yawhew helped? One case where he helped? Let's start with the first thing you mentioned, wells . . .
"Yes," said Ishmael. "A while back, in the dry season when our band first returned to the village. In that dry season we were very short of water for ourselves and our flocks. Then Yayhew favored us with the discovery of a second well out in the fields."
"Yes, I have seen it. But why do you believe that a god gave you this well? Did your people not find the spot and dig the well themselves?" Asked the Wild Man.
"My mother led us to the spot. She led us out to the fields and pointed at a place in the ground. We dug and the next day the hole had filled with water. My mother does not go out into the fields much, hardly ever. There is no way that she would know where to find water unless she was guided by a god."
"Your mother knew were to dig for water because long ago when you were a baby, the water flowed out of the ground at that spot during a terrible rain storm. She saw it, and I saw her see it. You were there also, although you don't remember."
"I don't believe you," protested Ishmael.
"That is the truth about your well. But there is a larger truth here: That lack of an explanation for something that happens does not necessarily mean that it is the work of a god. There may be another explanation. In fact I would say that there most certainly always is an explanation not involving gods, but we just don't always know what that explanation is.

"This Double Triangle shows how each of us is truly the alpha and the omega," said the Wild Man.
"The what, and the what?" asked Isaac.
"The alpha and the omega. In the land where I come from, learned people write words with letters. The first letter is called alpha, and the last letter is called omega. So each of us is the beginning and the end."
"The beginning and the end of what?" persisted Isaac.
"The family tree of each person has the form of this double triangle, with the individual in the middle, where the two points meet. The upper triangle represents each person's ancestry, which expands as one goes back in time: two parents, four grandparents, eight great grandparents, sixteen, thirty-two, sixty-four, and on and on. The lower point of the upper triangle is the culmination, the end, the omega, of this long ancestry in a single person. In you, Isaac. And in me, in my own Double Triangle, and Ishmael in his. At the same time, the lower triangle represents our descendants, which also expand in number with successive generations. Each person is therefore a gate between a vast past and an expansive future. This is why we must revere our ancestors, because they have made us what we are."
"Our god Yehwey is an ancestor of our clan. That's what Abraham tells us anyway," Isaac interjected.
"You misunderstand me, my boy. I do not mean we should worship our ancestors as gods. They were people just like us, and can never be anything else. We must revere our ancestors because we have come from them. But we do this not for them, for they are gone now. We do this for ourselves so that we can know who we are. But we are also the alpha, the beginning, sitting at the top of the lower triangle. After our time is gone and we join the ancestors, our afterlife can be assured through the continuation of our descendants."



---
Copyright © 2013 Double Triangle Press LLC. All Rights Reserved. Illustrations by Aspen Anadore. Cover art by Robert Lee. Maps by Aleron Zemplin