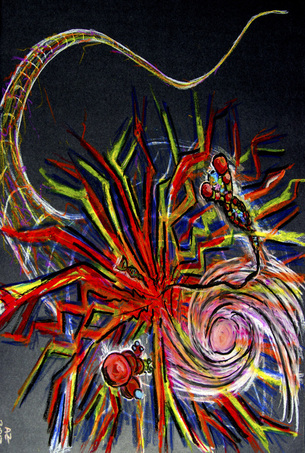 Random events, known as fluctuations, take everything from atoms, to genes, to people in unexpected directions. The vast majority of these fluctuations amount to little or nothing important, but a few have the potential to change the world. Given the vast number of these constantly occurring, random events, it is an absolute certainty that some of them will change the world.

Fluctuations have a specific, mathematical meaning in the descriptions used by science to understand the world. They are random deviations from average conditions. For instance, the trees in a pine forest collectively have an average height. However, any individual tree might deviate from this average, being taller or shorter. These are fluctuations. Most fluctuations are small; most trees are near the average height. Large fluctuations, trees twice as tall as the average, are very rare but do exist.

In a cup of water, the water molecules on a microscopic level are wiggling and zooming around. The speed of their motion is what we sense as the temperature of the water, faster motion equals higher temperature. However, the moving water molecules actually have a range of speeds and the observed temperature reflects the average of this range. Water molecules moving faster or slower than the average represent fluctuations. As the temperature is lowered, it is the slower than average molecules that initiate the transition from liquid to ice. As the temperature is raised, it is the faster than average molecules that initiate the transition from liquid to steam. Fluctuations from the average tend to initiate change.

Random fluctuations exert a profound influence on virtually all natural processes. For instance, atoms and molecules could not combine via chemical reactions to form the materials of our universe and our world, including living things such as ourselves, without random fluctuations. Without random processes the universe would have remained forever a featureless broth of non-interacting particles: no stars, no planets, no us. Fluctuations are instrumental in processes of nature ranging from human thought to the weather. The world, actually the entire universe, around us would be very different, and would not be suitable for life, if not for the randomness introduced by fluctuations.

Fluctuations are important to the biological world in an immediate sense since processes integral to life such as photosynthesis, metabolism, and genetic reproduction require chemical and physical change and thus would not be possible without fluctuations. However, random deviations from the average have a much more striking and visible impact on the biological world, over the very long term, by creating through natural selection the staggering diversity of life around us. Every structural difference amongst all the species of living things in the world from bacteria, to trees, to people arose from a random event, a genetic mutation, a fluctuation. In fact, there have been vastly more of such fluctuations or mutations then all the structural differences among all the species that currently exist since only a relatively few such mutations are amplified through natural selection and passed on to subsequent generations. Most genetic fluctuations disappear because they decrease survivability or, even if they are advantageous, because some other random occurrence such as a drought or the appearance of a hungry predator wipes them out before they can be passed on.

In the sphere of human activity, the fluctuations that permeate people's daily lives also play a prominent role. Chance meetings, unexpected events, and accidents have a profound influence in the course of our individual lives as well as the development and fate of civilizations, economies, and belief systems such as religions. The specific details of these events are random, but the fact that they are always occurring is a constant. And, as with the physical world of atoms and molecules and the biological world of genes, fluctuations in human events are necessary to keep civilization changing, evolving, and moving forward. An Accidental God is a hypothetical exploration of how random events can influence human religious belief. As with the Bible itself, the literal, historical details of many events are unknowable but the events themselves are only significant to the extent that they bring out deeper meanings. In An Accidental God, these deeper meanings are concerned with the impact of randomness on the specific way people come to perceive and worship their God.

---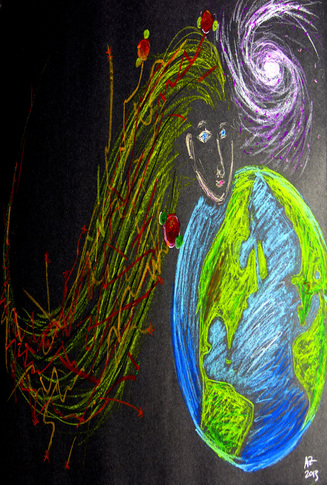 As in the physical and biological worlds, individual fluctuations are numerous beyond counting in human activity. As you go through your average day, you are constantly meeting other people and encountering situations that you could not have predicted beforehand. This includes little details such as who sat next to you on a bus, whether or not you got caught in a traffic jam, and so on. Each of these individual happenings is unique and unanticipated, and thus, from your point of view, represents a fluctuation. To get some idea of the staggering number of possible random outcomes in human activity, consider that billions of people worldwide are simultaneously bathed in a constant, daily sea of fluctuations.

Most fluctuations are small and are forgotten almost immediately; they are unimportant and produce no lasting effect. That car I just passed on the highway was red as opposed to some other color. But, it makes no difference, I have already forgotten. To use the mathematical language which describes fluctuations in the physical sciences, they are small in amplitude, and are damped, i.e. their importance or strength diminishes rapidly. Some fluctuations are small, but chance amplifies their later importance to those involved. You find that the person who randomly chooses to sit next to you on a bus is an old classmate you have not seen in twenty years. Or, you strike up a conversation with the stranger sitting across the aisle from you on an airplane. You find that this person possesses complimentary interests or skills which lead the two of you to form a business partnership. In these cases a resonance, a match or fit, magnifies an initially small happening into something of greater amplitude or importance.

Most fluctuations in our lives are small in amplitude and damped. A very few small amplitude fluctuations resonate with us and our situation, but we tend to notice these resonances and ascribe to them importance far beyond the random events that they truly are. We are bombarded by thousands of random details of daily life. Yet, when one of these chance occurrences leads to something more, we tend to view this as fate, providence, or luck. These three terms all suggest a belief in a higher power which is directing these chance events. The workings of the human mind make such conclusions irresistible. Ten thousand small amplitude fluctuations sail by our senses in a blur like the faces of strangers we pass on a busy city sidewalk. We hardly notice them. When one thing resonates, we stop and focus on it; we marvel at it. Perhaps we even attribute it to the will of God. However, such coincidences do not require divine intervention. If one experiences enough small random events, statistics dictate that eventually one will hit upon something that resonates.

Recently, I was sitting in my office at work and a brief thought about a colleague passed through my mind moments before she knocked on my door. When I remarked that I had just been thinking about her, she became excited and told me of her interest in the writings of Carl Jung. Jung, she told me, believed that life was not a series of random events but rather an expression of a deeper structure in the Universe. This underlying order led to the coincidences he called "Synchronicity." What was my response? Such ideas are a load of romanticized, occultist, late Victorian nonsense! Ten thousand times I sat in my office and thought a thought about a person who did not promptly show up at my door and I didn't even notice. But the one time the person did show up, it is a sign of higher meaning, or of the forces of Synchronicity at work in the Universe? No, it's just statistics; it was bound to happen sooner or later.

Of course there are also randomly occurring fluctuations of a much stronger, higher amplitude variety. They do not need to find a resonance to profoundly influence events, for they are strong enough to dominate by themselves. Examples of such strong fluctuations include disasters, both natural and man-made: earthquakes, floods, city engulfing fires, terrorist attacks, dinosaur-obliterating asteroid impacts. They also include unexpected important discoveries: gold at Sutter's Mill in 1848, a New World rather than a new route to India in 1492, etc. Clearly, and perhaps fortunately, such strong fluctuations are rare. In fact, the stronger they are, the rarer they are. The science of statistical mechanics, a fundamental underpinning of chemistry, physics and biochemistry, allows the probability of a particular event or fluctuation to be determined based on its strength, and indeed strong fluctuations are exceedingly rare while small ones are numerous beyond counting. This analysis holds rigorously in the world of atoms and molecules, but applying it in the arena of human interactions, which are much more difficult to quantify, may be hopelessly complex. However, common observation indicates that it is generally true.

The premise of An Accidental God is that a series of random fluctuations, most small and a few large, over a long period of time, turned a person into God. Some of these random occurrences are experienced by Yehhi himself, like the meeting with the gold toothed stranger that led to his education as a scribe. However, the vast majority of these fluctuations are random events that take place long after Yehhi's death, but resonate with the circumstances of others to change their feelings about Yehhi. An earthquake, for instance, which convinces Abraham that the statue of his ancestor has miraculous powers.

---