BOOK III: ABRAHAM

Abram rebuilds Ishmael's boyhood home and moves in with his mother Hagar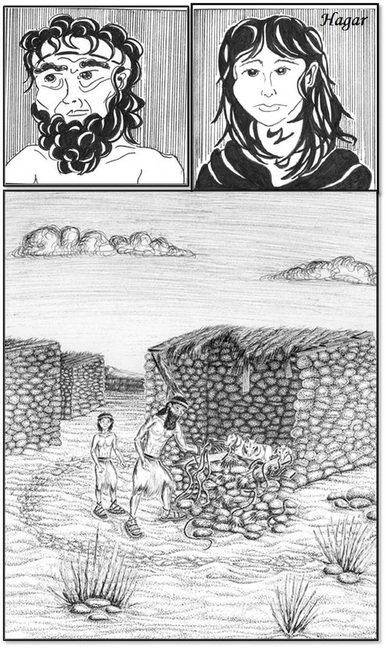 Abram and Ishmael went together to the ruins of Ishmael's childhood home. They shooed the goats out, cleared the brambles and began to stack the fallen stones to rebuild the wall. They salvaged the collapsed, wooden roof beams which had been incorporated into the fence for the goat pen. The beams were raised and covered with thatch, twisted into narrow bundles, and these in turn they covered with a layer of earth on the roof. It took them five days, but when they were finished, both Abram and Ishmael walked proudly around and around the small square building, admiring their work.

The grass was becoming scorched and brown, and the herds suffered; the herds of Abram and the herds of the native inhabitants suffered alike. And, the people of the village began to murmur against the newcomers who had increased their numbers beyond the capacity of the arid land.

Abram sat on the stoop of Hagar's stone house one morning with a sullen look on his face, watching Lot go at it with Hagar's brother-in-law. They were shaking fingers in each other's faces and cursing so vigorously that they were showering one other with mists of spittle.
Then Lot turned to Abram. "Uncle! Uncle! Why so quiet?"
Abram continued to sit and scowl.
"Uncle, a man might start to think that you have abandoned your people, the people who have accompanied you into your exile, the people who have been with you through all your hardships since you left Sumer. Uncle, have you become a village dweller? Have you taken a village wife? Uncle, do you favor the villagers over your own?"
Abram continued to sit and scowl without replying to Lot, who soon turned back to Hagar's brother-in-law. Hagar came up behind Abram in the doorway. She knelt down behind him, put her hand on his shoulder, and whispered in his ear.
"There is another source of water."
"What?"
"There is a spring in a wadi out in the fields, not so far from here."
"If there is, no one in this village seems to know about it," Abram observed in a low voice, as if not to disturb the argument going on nearby.
"I know about it," Hagar continued. "It is not flowing at the surface these days and has not for many years, not since my Ishmael was a baby."



---
Hagar finds a new well, Abimelech returns Sarai and swears an oath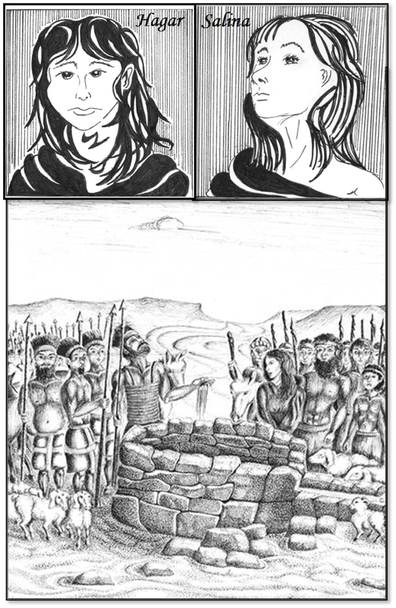 The harlot has no idea where she is going," Salina hissed under her breath to the other women. A wave of discontented murmurings passed through the crowd. Hagar stepped down into and then crossed the dry wadi. Abram and Ishmael were still at her side, but about half the people did not follow. Salina continued on, however. She wanted to savor every moment of Hagar's failure.
When Hagar finally reached the head of the wadi, only Ishmael, Abram, and Lot and Salina were still with her.
"This is it. This is the place," she proclaimed, pointing at a sunken spot in the ground where the wadi ended.

The three men paused for a moment, exchanging dubious glances. Then simultaneously they threw themselves into the hollow. Shoulder to shoulder to shoulder they scooped at the loose, sandy soil with their bare hands. They dug and they dug, and Abram was becoming more doubtful with each handful of earth. Hagar stood on one side of the growing hole and Salina faced her fiercely from the opposite side. The three men stood in the bottom of the hole they had dug and it was deeper than their waists. They exchanged looks, more dubious than before, but once again they threw themselves down into the dirt and they dug and dug. The light was starting to fade, their strength was failing, and their fingers began to bleed. Sensing victory, Salina pulled off her head scarf and tossed her wavy mane of auburn hair so that it was illuminated by the sun setting across the plane behind her. She smiled and shot daggers at Hager with her eyes. The three men climbed silently out of the huge, dry hole they had dug.

"What is this you have done to me? Why did you not tell me she was your wife?" Abimelech pleaded in an innocent and aggrieved tone. "Why have your gods brought this pestilence upon my manhood?" A twitch of delicate discomfort passed across his face. "And this barrenness upon my household? And, perhaps grave consequences with my overlord? Why did you say, 'She is my sister,' so that I took her as my own? It is you that has caused me to offend your gods. Here, take back your wife, sister, whatever. And call off your gods' wrath. And, here take back your flocks and some more besides, and take also these servants and goods that your wife has become accustomed to while in my household."
Abram's heart soared as he set eyes on his beloved Sarai for the first time in almost a year and a half.
"I . . . I will accept your amends," stammered Abram, recovering from the surprise. "And I will do what I can with Yehhi, our great god, on your behalf, but . . . but . . . You must swear, yes swear to no longer oppress my people. Swear to no longer demand tribute from this village, to no longer steal our women."
Abimelech heaved a heavy sigh, and took a few steps forward. Abram's men made way for him. Abimelech dipped his hand in the water of the well. "By the spirit of the water which all men and beasts depend upon for life, I so swear!" he exclaimed. Abimelech shook off his wet hand, turned and with his armed escort walked away over the fields leaving all else behind.


---
Abraham's inability of conceive a son drives him to self mutilation, bloody sacrifice, and bargaining with his God

As the months went by and Sarah still did not conceive, Abraham was buffeted by alternate long bouts of melancholy punctuated by frenzied bursts of copulation. During his melancholy, Abraham would lie for hours in his tent, half asleep and half awake, seeing himself already sitting by the wall, alone, in the land of the dead. And then he would be taking Sarah roughly, his head swimming with a thousand plans for the future, and before his eyes the starry arc of the Milky Way.

Abram drew a knife from his belt and quickly slit the throat of the ram. Warm blood spurted on his hand and on his feet as the body twitched its last. "Sacred blood . . . Sacred blood, as in Salem. Sacred blood . . ." the words kept running through his mind. The goat had started to wander off, so Abram shuffled quickly after it, leaving bloody footprints across the stone. He caught the goat and immediately slit its throat as well. Then he began carving the animals, each in half through the middle. And it was hard work, for the animals were robust and his blade was modest. He crouched over the carcasses, his forearms now smeared in gore and his hands beginning to ache from the effort. Salty sweat burned his eyes, and he was breathing heavily. Before he realized what he was doing, he wiped at the sweat and then his face was covered with blood as well. He hacked at the viscera, which had a tendency to slide over the blade without cutting. He punctured the bowels, and the contents spilled out, and it stank. Then he used the point of the knife to attack the segments of the backbone and pry them apart.
The sun was going down. In the dusk, Abram, panting and dripping with blood and sweat, labored to drag the halves of the sheep and the goat and arrange them opposite one another on the great stone. He then collapsed from exhaustion in the sticky blood, gore, and bowel that was smeared on the stone between the cleaved parts. Abram lay there looking up at the deepening sky. Then he cried out, "Yehhi! Yehhi! Can you hear me my god?!"
Abram waited in silence for a reply. Then he cried out again, "Yehhi! Yehhi! This is my promise to you. I, and my people, will honor you, worship you, never fail to make sacrifices to you."
Abram lay there spent from his effort, and profoundly saddened by the lack of response, the lack of a sign that he had been heard. His desperation was turning to despair, even thoughts of his own death. And Abram passed into unconsciousness.

He took Sarah repeatedly, even violently in those days, so as to fulfill his covenant with his Lord Yehhi. He had cloven the animals; he had cut his own flesh! Yehhi had promised him descendants as numerous as the stars in the sky. So, now was the time!



---
Ishmael and Isaac meet the Wild Man of the Hills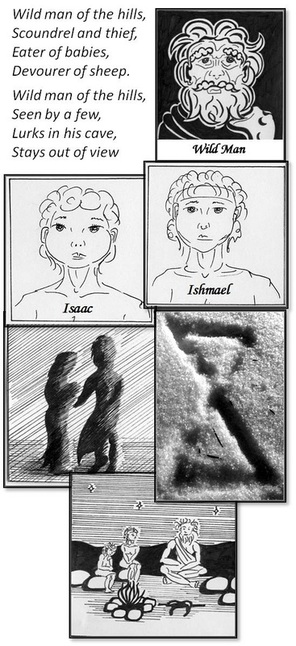 "Yahwey," continued Ishmael, "is the special god of our clan. We make sacrifices to Him and He helps us with things like wells, and flocks . . . the men of Gerar."
"I see." Said the Wild Man. Can you tell me specifically how Yawhew helped? One case where he helped? Let's start with the first thing you mentioned, wells . . .
"Yes," said Ishmael. "A while back, in the dry season when our band first returned to the village. In that dry season we were very short of water for ourselves and our flocks. Then Yayhew favored us with the discovery of a second well out in the fields."
"Yes, I have seen it. But why do you believe that a god gave you this well? Did your people not find the spot and dig the well themselves?" Asked the Wild Man.
"My mother led us to the spot. She led us out to the fields and pointed at a place in the ground. We dug and the next day the hole had filled with water. My mother does not go out into the fields much, hardly ever. There is no way that she would know where to find water unless she was guided by a god."
"Your mother knew were to dig for water because long ago when you were a baby, the water flowed out of the ground at that spot during a terrible rain storm. She saw it, and I saw her see it. You were there also, although you don't remember."
"I don't believe you," protested Ishmael.
"That is the truth about your well. But there is a larger truth here: That lack of an explanation for something that happens does not necessarily mean that it is the work of a god. There may be another explanation. In fact I would say that there most certainly always is an explanation not involving gods, but we just don't always know what that explanation is.

"This Double Triangle shows how each of us is truly the alpha and the omega," said the Wild Man.
"The what, and the what?" asked Isaac.
"The alpha and the omega. In the land where I come from, learned people write words with letters. The first letter is called alpha, and the last letter is called omega. So each of us is the beginning and the end."
"The beginning and the end of what?" persisted Isaac.
"The family tree of each person has the form of this double triangle, with the individual in the middle, where the two points meet. The upper triangle represents each person's ancestry, which expands as one goes back in time: two parents, four grandparents, eight great grandparents, sixteen, thirty-two, sixty-four, and on and on. The lower point of the upper triangle is the culmination, the end, the omega, of this long ancestry in a single person. In you, Isaac. And in me, in my own Double Triangle, and Ishmael in his. At the same time, the lower triangle represents our descendants, which also expand in number with successive generations. Each person is therefore a gate between a vast past and an expansive future. This is why we must revere our ancestors, because they have made us what we are."
"Our god Yehwey is an ancestor of our clan. That's what Abraham tells us anyway," Isaac interjected.
"You misunderstand me, my boy. I do not mean we should worship our ancestors as gods. They were people just like us, and can never be anything else. We must revere our ancestors because we have come from them. But we do this not for them, for they are gone now. We do this for ourselves so that we can know who we are. But we are also the alpha, the beginning, sitting at the top of the lower triangle. After our time is gone and we join the ancestors, our afterlife can be assured through the continuation of our descendants."


---